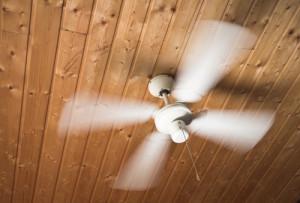 With high electricity costs, many Boone homeowners are looking for ways to save energy and money while staying cool. Can ceiling fans be an answer? Yes!
Can Ceiling Fans Save Money?
The cost of operating a ceiling fan is significantly less than that of central air conditioning. Using ceiling fans and raising the thermostat a few degrees can reduce electricity, lower carbon emissions and save you money. The money-saving strategy, though, depends on a few points:
Ceiling fans cool people, not things. Turn them on when you're in a room and off when you leave the space.
Large-diameter ceiling fans move a lot of air economically, so they can move the chilled air from the central air conditioner long after the A/C turns off. This is a big money-saver.
Ceiling fans cool by a wind chill effect, with moving air helping to pull away moisture from skin. This means you can set the A/C at 78 degrees and let the moving air give you the equivalent cooling as having the A/C at 74 degrees.
Central air conditioners work at peak efficiency when they run intermittently for long periods of time. Short-cycling increases wear and tear and decreases efficiency.
Shopping and Installation
When searching for the ideal ceiling use the federal Energy Star program to find Energy Star-certified fans that are at least 20 percent more efficient than other models. Consider a unit that includes a light fixture, and then install energy-efficient LED lamps to gain brightness with no appreciable heat. Keep the following installation tips in mind:
Room height must be at least eight feet.
Anchor the ceiling fan to a ceiling joist.
Larger-diameter fans move more air than small-diameter fans, but be careful not to overpower a small room with a big fan.
For more helpful tips to save on cooling costs for your Boone home, contact us at Avery Heating & Air.
Image Provided by Shutterstock.com